Come See our State-of-the-Art Porsche Facility


One of the most difficult aspects of crafting a dealership experience is matching the expectations of drivers who have chosen a brand for its design and engineering. While other automotive brands emphasize their relative strengths (i.e. Brand A is better than Brand B), Porsche is in a class all of its own. No other manufacturer or brand has the iconic design, incredible racing pedigree and driver-focused engineering that Porsche has brought to the market for nearly 90 years.
At Porsche Kansas City, we've done likewise and introduced Merriam's first state-of-the-art Porsche dealership experience that mirrors the simplicity, heritage and superiority for which drivers choose models in the Porsche stable.
Porsche Kansas City Offers a True Showroom and Service Center Experience for Luxury and Performance Enthusiasts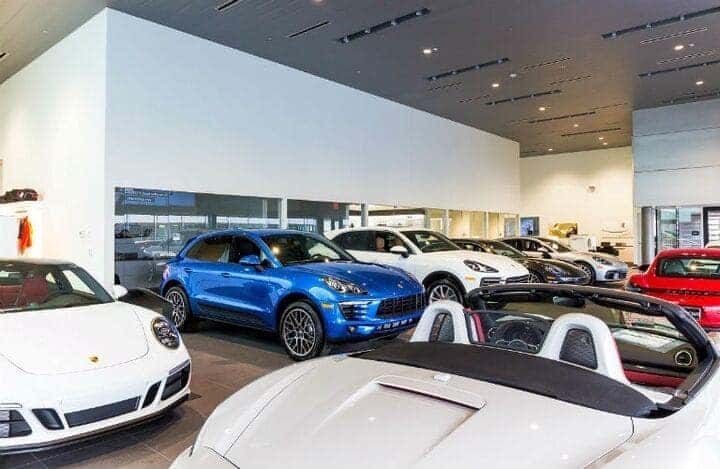 At Porsche Kansas City, our goal is to create a dealership encounter that goes beyond anything you've ever experienced. Like Porsche, the secret to our success in achieving and exceeding this goal has been the emphasis we've placed on design and engineering for our futuristic facility in Kansas City.
When you shop or have your vehicle serviced at Porsche Kansas City, you'll find a center designed and built to mirror and reflect the geography of the land.
Some of the amenities you'll find at our Porsche Kansas City facility include a service department overlook that provides a birds-eye view of the work being done by the most skilled Porsche service technicians around. You'll also enjoy hotel-like amenities courtesy of our updated delivery salon area that is constructed with the timeless elegance and beauty of glass.
Finally, our commitment to Porsche performance engineering is on full display through the lounge area's large display screen that provides an in-depth look at Porsche track capability courtesy of a video feed from Porsche vehicles.
Other amenities include a state-of-the-art waiting area for service clientele and a covered outdoor patio area that allows you to enjoy luxury and sophistication with some fresh air along for the ride.
Contact us today to schedule an appointment or a test drive.